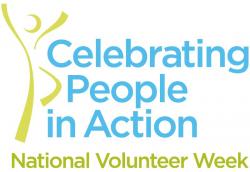 What is National Volunteer Week?
National Volunteer Week gives us the opportunity to acknowledge the impact that volunteers have in our communities. The week began in 1974 when President Nixon signed an executive order establishing an annual celebration of volunteering. This year commemorates the two-year anniversary of the Edward M. Kennedy Serve America Act and the Volunteer Generation Fund.
For the Santa Cruz Volunteer Center, National Volunteer Week is about inspiring, recognizing and encouraging people to seek ways to engage in our community. There are an infinite number of ways to get involved. You name it and there is a volunteer in our community making it happen. It is our goal to highlight volunteer stories throughout the year.
See what the Volunteer Center of the Santa Cruz County is up to during
this week
.
What makes National Volunteer Week special?
As a nation we have the opportunity to hear the inspiring stories of everyday individuals who are dedicating their time to improving our communities and volunteers all across the country receive national recognition for their efforts.
Some of the opportunities for Recognition include:
1. Daily Point of Light Award:
The Daily Point of Light Award
honors individuals and volunteer groups who are helping to meet critical needs in their communities and creating change every day.
2. Corporate Engagement Award:
The
Corporate Engagement Award of Excellence
honors companies that have made a commitment to building strong employee volunteer programs and meet the
Principles of Excellence for Workplace Volunteering
.
3.
What:
The Volunteer Initiatve Program will honor 25 people
When:
10 a.m. Tuesday
Where:
County Board of Supervisors, 701 Ocean St., Room 525, Santa Cruz
4. What:
CitySERVE will honor 20 volunteers during a reception prior to the City Council meeting
When:
2:30 p.m. Tuesday
Where:
City Council Chambers, 809 Center St., Santa Cruz
To learn more about how to nominate volunteers for awards
Click HERE
.
===================================================================
Stay connected!
For more information please e-mail us at marketing@scvolunteercenter.org or volunteer@scvolunteercenter.org. Also, please visit our
website
, and
Facebook Page
, post/ find volunteer opportunities and
stay updated
on upcoming events
HERE
.
===================================================================